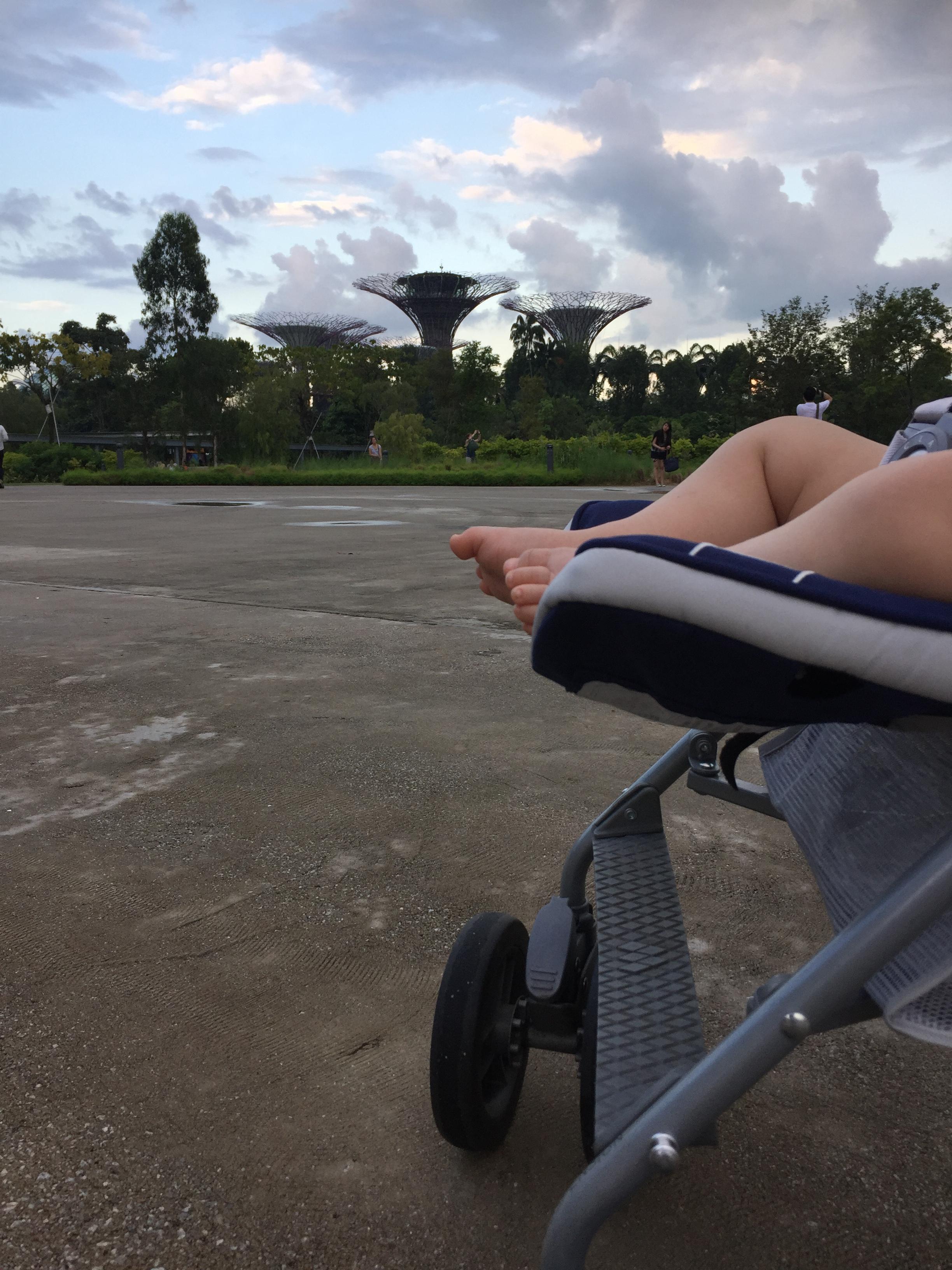 Travel Around Singapore with Baby
Published on 27.02.2018
As one of the most baby friendly cities around the world, Singapore has a lot to offer. Don't be afraid to explore this exciting metropole with your buggy. We will show you where to go...
When we found out that our next destination will be Singapore, all three of us were super excited. I got immediately nervous while thousand questions ran through my mind. How do we survive the 16 hours long flight? What kind of food am I allowed to bring on board and will they serve baby food? What is the best travel stroller and can I keep it with me all the time? Do I need to have car seat on the plane? How do I entertain my baby on the plane and what are actually best travel toys? And finally, what are the best things to do in Singapore?
Though we were used to travel around the world, neither me nor Stepan had the luck to visit Singapore before and one of our friends described it as "Zurich of Asia". Living in Zurich for over 6 years, I wasn't sure what to think of it at first. I knew that Simon and I will be on our own for the whole week and so I immediately started to look for things to do with babies or what were actually the best baby and kids friendly activities.
Our hotel was located right across the street from Suntec City, so walking Downtown was no issue and I hoped that we won't have to use public transport at all, as our previous experience with public in Prague transport was quite tragic. I have to admit, that one big fat apology was in place, once we rode SMRT for the first time. Absolutely buggy friendly, accessible, clean, helpful staff and all trains on time. On the other side, I was sometimes bit lazy to look for lifts and couple stations were under reconstructions, so we had to use escalators, though with buggy it was explicitly forbidden.
Day 1: Arriving to Singapore – cultural shock!
Overcoming time zone difference, our first trip after arriving from the airport led to the Bay and probably to the most convenient buggy walk in Downtown. Suntec City, War Memorial Park, Concert hall at Esplanade, Esplanade Bridge, Merlion, the Promontory, Marina Bay Waterfront Promenade that was super crowded as local food festival was ending that day. Thousands of people were celebrating, cheering and simply hanging around the area, enjoying sunny Sunday afternoon. Usually this would be perfect time to join them, but not after full day spent traveling, fuzzy Simon and us wanting to get to any green lawn to just sit down and close our eyes for a moment. Anyway, we bought a local beer and few snacks and continued crossing the Sheares Avenue at Sheares Link and through the Dragonfly Bridge to Gardens by the Bay. Simply beautiful scenery opened right in front of us and all tiredness was immediately gone. Probably looking like two exhausted cabbages, we sat down at The Canopy area, between the Indian garden and Cloud Forest dome and let Simon, suddenly full of energy, toddle around. Nice restaurant at Flower Dome offered great selection of local cuisine, which helped us to get back on our feet and we slowly continued to Helix Bridge through Youth Olympic Park (only way back to Esplanade, if you don't want to carry the buggy down the steps) and through Waterfront Promenade back to our hotel. Gardens by the Bay are one of the few places in the downtown where you can relax and let your kids run around freely, so we returned there few more times during our stay. Gardens, being a vast area, it never got boring, we always found new things to admire and I'm sure that if we come back to Singapore one day, we will visit this amazing place again.
Day 2: What a weather…
Our first day alone with Simon started with a thunderstorm. And we welcomed every single drop, as we were not used to hot tropical weather. Starting again from Suntec City through Esplanade Park our goal was to get to the China town and meet with Stepan for dinner. Crossing Anderson Bridge (pedestrian walk), we made it back to busy Fullerton Road, Collyer Quay, Cecil and Cross street. Simon started to get bit fuzzy and I regretted not staying back at the hotel as there was no park around to let him crawl freely for few moments and hot sunny weather started to take it's toll on him. Desperately needing to change his diapers, I did it right in front of the office building of my previous employer (and I was really happy that none of my ex colleagues happened to be there to watch the drama). Reminder for next time, take the SMRT and don't even bother to walk the distance. Finally arriving to China Town and the Food Street, we met with Stepan, had a dinner and took Uber back to our hotel. I couldn't wait for a cold swim as my t-shirt was drenched in sweat. How could my husband wear a suit in a laundry-room-like weather remained a secret to me for rest of our trip.
Day 3: Strolling around and enjoying the vibe
Plan for Day 3 was clear. RELAX. Jet lag hit us very hard or at least I was falling asleep constantly while my nine months old munchkin didn't show any trace of tiredness at all. Thinking of things to do with a baby in Singapore, Gardens by the Bay were our first and only choice of the day. Especially the Children's garden, right behind the Cloud Forest, is definitely a place to go when visiting Singapore with a toddler. Covered in soft surface, dozens of little water pipes create world of fun for small kids and you don't have to worry about them slipping on hard concrete. Cascading benches surrounding the water playground allow parents to stay dry and still have their kids under control. And of course toilets with baby changing desks are right next to the playground.
Curiosity brought us to visit both Domes, though the tickets for foreign visitors are not cheap. Singapore locals have discount but you need to proof your residency. Babies until 3 years are for free, age 3-12 is for 15$ and adults are for 28$ for both Domes. Coming from Europe, we probably could skip the Flower Dome, containing plants and flower from the Mediterranean and Dutch tulips. The exposition was amazing but if you want to see anything like that, go to Keukenhof, not Singapore. Cloud Forest was totally different experience! Lift taking you to the top of the waterfall, then you'll continue back down to the ground level, admiring all kinds of tropical plants and of course view on Singapore Marina from behind the Dome's glass construction. Both Domes are accessible with buggy with lifts taking you between the floors. Be ready for air temperature change between outside and the Domes.
Since another storm was coming fast, something you should get used to if you're visiting Singapore in April, we rushed through the shopping mall at Sands through Helix bridge back to our hotel to watch the storm from the indoor hotel swimming pool for kids.
Day 4: Amusement all around us
Sentosa island is one of the most frequented places in Singapore and I dare to say that every visitor spends a day there. Well, we came there twice. Again on our own with Simon, we took the metro to Marina South station and then changed to Sentosa Express – both leaves from Vivo City shopping mall and I recommend to change your baby at the ground floor restrooms. If you are traveling with older children take the cable car, which is most exciting but the least baby friendly way how to get there. Sentosa express stops at three stations, Waterfront, Imbiah and Beach stations. We left at Waterfront station, took the lift to the ground floor and then walked through Waterpark to get some snack and then to Merlion and down to the Beach. The only disadvantage on the main route from the studios to Wings of Time was, that there were no green places to leave your toddler to relax. Both Simon and I felt pretty relieved when I let him run around on the beach. Don't expect any clear blue water. The view is scarred with oil tankers, so swimming doesn't seem that appealing.
Day 5: Universal Studios and the Aquarium
Universal Studios. Not exactly one of the top things to do with a toddler but definitely something for their parents or older siblings. Taking the already tested public transport route, we arrived to the cashier desk around 10am and spend over half of the day there. Feeling bit dizzy, I left Stepan to try all big attractions and roller coasters and instead took Simon to few carrousels. At the end, Universal Studios are baby friendly in terms of equipment - large nursing room with a kitchen including microwave and kids indoor playground corner is located right behind the entrance on the left side (next to the souvenir shop). On the contrary, it's all concrete, so if you plan to sit somewhere down on grass, there's not many places to do so (be ready for popcorn almost everywhere). 9 month old, Simon was of course not allowed to enter most of the attractions but there were still some, he enjoyed, like the Donkey theatre from Shrek and the carousel or the Madagascar carousel and few others. Stepan went to Battlestar Galactica roller coaster and I did Sound and Visual effects tour.
Aquarium was nicely climatized and we all admired the amazing display of sea life of South East Asia. Something completely new to us, Simon's eyes were drinking in all kinds of fishes, mostly the sharks and starfish.
Day 5: Cool down in Singapore
Five days in Singapore and still tons of things to do and no time to get lazy. Simon was tired of sitting in his travel stroller whole day, so we took the metro (Downtown and Circle lines) and rode to the Botanic Gardens. Probably the biggest mistake I did was not reading what exactly is to be seen within the gardens and so we missed the Jacob Ballas Children's Garden. Nevertheless, we had fun anyway and Simon enjoyed every moment. On our way back to the hotel we stopped in Little India and Bugis shopping mall (both on Downtown MRT) and headed back to the hotel to pack and get ready for our flight back home.
Day 6: Flying back home… and staying in Dubai for a day
One stressed mother, one 9 months old always moving baby, father flying in the totally opposite direction. Standing in Singapore's departure hall, I was on the verge of tears imaging being alone with Simon for two days, flying Singapore to Dubai, staying in Dubai for 20 hours and the boarding flight Dubai to Prague. I had to plan carefully what to bring on board and how to rent a stroller, since our own buggy was checked all the way back to Prague and I was left bag full of baby gears on one arm and Simon hanging on the other. We said our goodbyes to this amazing metropole and promised, that we will come back one day.
Our journey back home was quite uneventful, though the flight to Dubai was bit bumpy and I had to take Simon off the crib every time when the seatbelt sign went on (which was dozens times at least). Dubai International Airport is ranked as one of the top in the world and we were able to rent a stroller for our 20 hours trip - stop at the information desk behind customs and they will rent you one for free for the duration of your stay that should be shorter than 24 hours. Leaving the cooled hall, Simon exhausted in my arms, I was confident to see as much as possible from this innovative city.
Back to article list