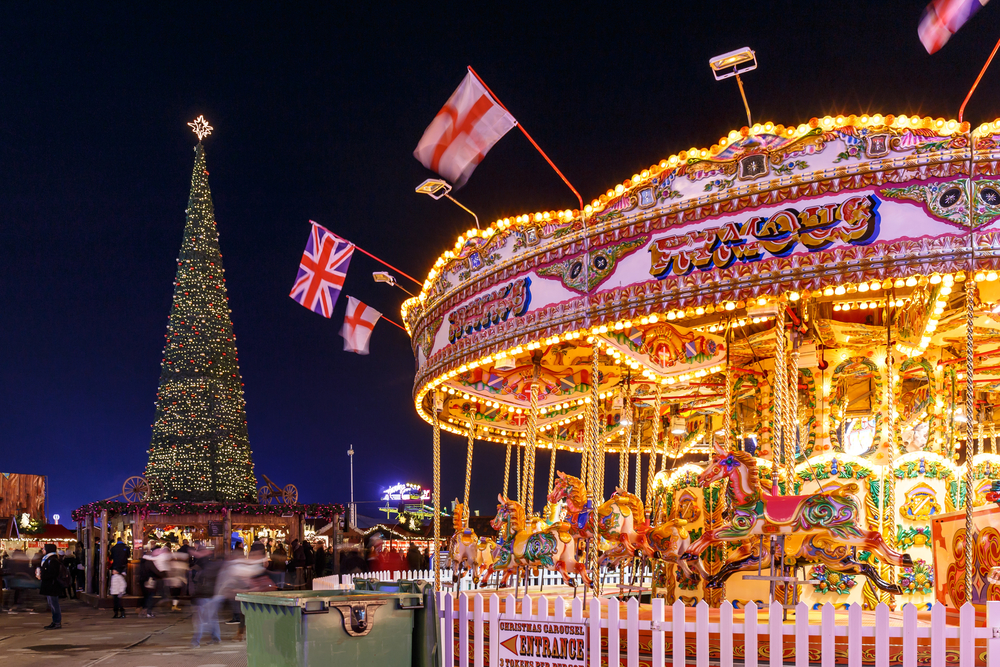 Five most baby friend X-Mas markets in the world
Published on 29.11.2019
Every year, during the first December weekend, almost all larger cities and towns in Europe light up to prepare for Christmas. We listed five most baby friendly Christmas markets around the world.
Every year, during the first December weekend, almost all larger cities and towns in Europe light up to prepare for Christmas. It's not only about carols and presents but also about getting to know local culture, meeting with friends and just celebrating this special time. Happening during the four weeks of Advent, the origin of these markets are in Germany, but now you can find them almost in every European country as well as all around the world. We are going to introduce you 5 most baby friendly Christma markets.
1. Winter Wonderland in London
One of the most popular X-Mas market is Winter Wonderland. This market held in one of the largest and most famous parks in the center of London - Hyde Park. Winter Wonderland is one of the largest Christmas markets in London. The market starts 21st November 2019 and finish 5th January 2020.
It is not just a market, but a truly winter wonderland, accessible for free and offers visitors plenty of seasonal entertainment, family shows and over 200 wooden stalls with fantastic gifts. You can find there over 100 spectacular rides and attractions, thrilling shows. Santa Land is a whole area dedicated to the children.
The best time to visit the market with children is morning. Parents can enjoy mulled wine or Bavarian beer at night when the markets transformed by thousands of lights.
2. Hamburg
The most famous Christmas market takes place in the "Venice of the North" - at the Town Hall Square under a large illuminated tree in Hamburg. An impressive experience is brought by Santa Claus, who rides three times a day in a reindeer sled over the Town Hall and attracts both children and adults. The markets start 25.11.2019 and finish 23.12.2019.
On the Town Hall Square you will find 80 stalls with traditional goods divided into cozy streets. The aisles are named after focusing on craft products, cheeses, toys or sweets. Children will love Speilzeuggase, the large model railway travels across the stalls. You can enjoy roasted almonds, gingerbread and nuts at every corner. The market also offers a street of food.
3. Zagreb
Did you know that the local Christmas markets were declared the best in Europe for the years 2016 to 2018. After three triumphs in a row, Zagreb can not apply anymore. The X-Mas market starts 30.11.2019 until 7.1.2020.
During the Advent season, Zagreb offers a variety of events for children and adults. You can find ice skating ring, selected food and beverages in one of Zagreb's most beautiful parks - Ice park on King Tomislav Square. A huge Christmas tree is located in Ban Josip Jelačić Square. The fountain is transformed into a light display and there is a cosy, heated and covered conservatory. The pedestrian zone in the heart of the city - European Square offers Christmas decorations, selections of food and beverages. Do you want to see the magic of Christmas? You need to visit the Christmas Tale a real fairy-taily Christmas magic in downtown Zagreb.
4. Toronto
Toronto Christmas Market return to the Distillery district from November 14 to December 22. The market is open everyday except for Mondays. You can find there a hundreds of unique and locally handcrafted products, stunning light canopies, family friendly entertainment and Santa and the elves. Admission is free of charge on weekdays until Friday at 6 pm.
You have to visit Santa's House with your children. You can meet Santa everyday and your're welcome to take your own photos. The Christmas market offers a 100-foot light tunnel filled with one trillion lights.
The best days to visit market are Tuesdays and Wednesdays.
5. Copenhagen
The Christmas markets in Tivoli Gardens start November 16 until January 5. The garden will be filled with Christmas lights, wooden houses decorated with pine branches, snow-covered trees and Santa Claus house.
There is around 60 stalls with anz Christmas decoration, snacks, or hot drink. You can also buy some presents at the stalls with knitted products, leather products, crafts. You need to pay an entrance to visit Christmas market in Tivoli gardens.
Copenhagen has many different markets, one is named after world-renowned Danish storyteller - Hans Christian Andersen. Every stalls are all named after Hans Christian Andersen's fairy tales and decorated with thousands of Christmas lights. You can buy Christmas decorations, jewelry, mulled wine and hot chocolate.
Find the time and enjoy the Christmas atmosphere and shop for presents at some of the most beautiful markets in the world.
Back to article list