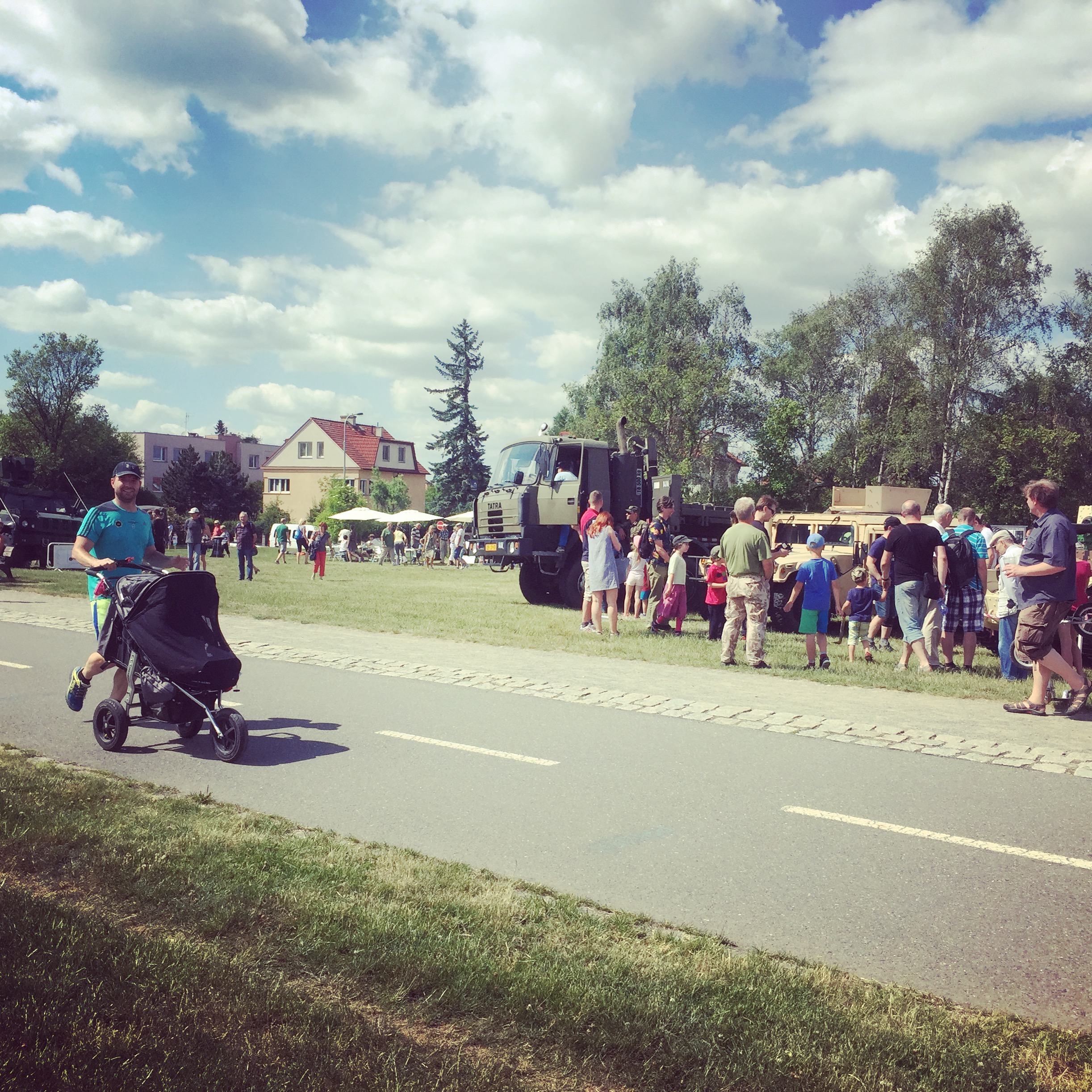 Jogging with babies around the world: Right time and place
Published on 23.11.2017
I am father of 18 months old son and we run together since he was one week old. During the first year we covered over 1000km on 3 continents, in 8 countries and experienced countless stories, which I want to share with you in this blog. Next year there is another challenge in front of us – our second child will be born and there will be more of us joining the running club.
Right time, right place
Running is my favorite workout activity – you can run nearly everywhere, do not need any special equipment and it is becoming more and more popular all around the world. I travel a lot for business so it is convenient to just pack a pair of sneakers and hit the road every morning or afternoon and clear your mind.
I also found out, that it is great sport activity for parents with young babies. The same benefits as above applies except one thing – finding suitable routes is challenging and the younger the kids are, the more you have to be careful what kind of surface you choose. I went running with our son first time, when he was one week old. Yes, my wife thought that I am crazy, but she let us go and we were back in 40mins and ran only 5kms. Before this first real experience, I expected that this will be like going for a stroll, but when my son started to bump in the buggy on every small hole in the pavement, I realized, that it is not so easy and that regular pavement is not really good. Because it was during summer holiday, we end up running on athletic circuit of the nearby school and I was hoping that none of my running mates will see it. Based on that I have Tip #1: Look for an inline skating track if you want to run with toddlers unable to sit.. This is especially helpful in foreign places and countries where you are not familiar with local specifics and surroundings.
Another challenge with small babies is timing. When they are still breastfed, there is nothing scarier than being 5 kms away from home when your baby gets hungry. Of course, for mums it is slightly easier, but fathers will break world best if situation like this happens to them. Tip #2: Always leave with full belly and immediately after the meal and burp… and I don't mean you as a runner. If you want to be on a safe side, you can always carry a formula, but mum is mum.
Run smartly, run safely
When babies grow, you can start running on some rougher tracks, but always be careful and adjust the route to your skills and current condition. Although I did not use it from the very beginning, I'm now always wearing the safety strip, which is mandatory for all jogging strollers. Honestly, I am not 100% sure, how it would help if something would have happened, but it probably has a reason, when they put it there. And I feel safer.
With older babies you are also not that much dependent on the natural source of food as you can bring some ready meal with you as well. It is a good idea to buy some thermo-isolation cover which will keep food temperature for hours and great thing about running with stroller is that there are many pockets, where you can put stuff for your baby and for yourself. Having said that, there is one drawback to that too – the weight you have to carry. And it is not just food; it is also the growing weight of your baby. When our son was almost one year old, I was easily running half marathons with him. Now he is 18 months and I am tired after 12kms. So I have to again carefully select routes to avoid hills as I can feel every meter of elevation.
Babies running around the world
In every place, we have traveled to, there was a track suitable for stroller, it just requires some more research of the local area, you can ask locals or you can use some of the gadgets to help you with selecting the route and I will share few tips with you today and as well in the next part of this blog series.
According to CNN, these are the top 10 jogging city routes, though not all of them are suitable for stroller run. So far we've only The High Line in New York and this fall will do Hong Kong. One of our next post will focus on the cities we've personally jogged with a stroller, therefore take the list below as an indication, as we haven't proofed most of the places yet.
The High Line (New York)
This much-hyped 2.3-kilometer-long linear park sits on a disused section of the New York Central Railroad and connects Gansevoort Street in the Meatpacking District with 34th Street.
BCG review: we tried the beautiful route with a buggy. First time just enjoying the city, second time as joggers. It really depends on the time of the day. If you'll choose the rush hour (which is basically the whole day), you'll have to slow down or stop constantly to avoid hundreds of tourists, posing and smiling for their newest Instagram post. There are more convenient places in Manhattan for stroller jogging than The High Line, like the Central Park or the Hudson River path.
Riverside (Shanghai)
The route starts from the Xuhui Riverside Public Open Space, near the Chuanchang Lu metro station, and finishes near Expo Zone C.
Mont-Royal (Montreal)
Montreal's 200-hectare Mont-Royal park is crisscrossed with a network of running trails. The Golden Square Mile area is the greenest section. More advanced runners head to Avenue des Pins and follow the signs for Belvedere and Chalet. This trail leads up the mountain, but the views from the top -- Montreal's highest point -- make the effort worthwhile.
Hong Kong Trail (Hong Kong)
The Hong Kong Trail has a total length of 50 kilometers but can be easily broken down into shorter stretches. Those looking for something light can start with the easygoing Section #1 - a seven-kilometer stretch that begins at the Peak and finishes at the Pokfulam Reservoir.
BCG review: will update in November
Trinity Skyline Trail (Dallas)
With stunning views over downtown Dallas, the 7.4-kilometer Trinity Skyline Trail starts at the Joppa Preserve's Lemmon Lake in the city's outskirts and finishes at the Trinity River Audubon Center downtown.
Tennessee Riverwalk (Chattanooga, Tennessee)
The 20-kilometer Tennessee Riverwalk is a linear park that starts at Ross's Landing in Chattanooga and finishes in the city center.
New Orleans jogging tour (New Orleans)
Runs depart from the Old U.S. Mint building in the French Quarter and finish near the Garden District along the St. Charles Avenue streetcar tracks.
The Bay Run (Sydney)
"Sydney is a place with hundreds of running trails, from runs along the city's harbor to longer challenging bush trails in the chains of bush land that dots Sydney suburbs and outskirts," says Joe Degabriele, president of the Sydney Striders Running Club.
Among these is the Bay Run, a trail in Sydney's western suburbs that loops around the lovely Iron Cove.
Thames Path (London)
The 289-kilometer Thames Path stretches from the Thames Flood Barrier at Woolwich in South East London to Kemble in Gloucestershire. We recommend tackling the 13-kilometer section winding from Richmond, on the outskirts of London, to Hammersmith in the city center.
Yoyogi Park (Tokyo)
Though temporarily closed, this 133-acre park is usually open 24 hours a day in the heart of the city, making it a popular destination for post-work runs. Running paths inside the park are conveniently covered with distance markers so you can gauge your progress. The park is also popular with blind runners, thanks to volunteers who lead visually impaired runners.
BCG review: We've tried Tokyo parks and gardens as tourists only and haven't seen many stroller joggers back then. Nevertheless the paths were wide, narrow and well maintained.
What do you need for running with babies?
In the paragraphs above, I wrote about when and where it's best to run with babies. In next few posts I'll talk about various gadgets necessary to make your buggy-jogging more comfortable and helpful while choosing the right track. I won't review different products but I'll share my personal experience and recommendations while using them. Starting with choosing the right stroller.
After few weeks of searching, Joggster III by TFK was my choice. Although TFK doesn't produce this model anymore, it's still available in stores or you can get a second handed one. Picking the right type, I had to take in account few conditions, well, more practical needs and wishes:
Consider your baby's comfort – I always knew that I wanted to start jogging with my son as soon as my wife would allow me to. For that reason, I had to find a stroller suitable and comfortable for children from new born to toddler. Some of the most advanced running strollers are only suitable for babies 6+ months.
Stoller suitable for both jogging and normal use - many "running strollers" are not really convenient for "normal" life, meaning that usually the fixed front wheel won't allow you to easily manipulate the stroller in smaller spaces. Our stroller has two types of wheels. Fixed large one (for running) and flexible two small wheels (general use). Changing them didn't take much time but quite honestly, it was still pain. So an advice: get a stroller with only one flexible front wheel, possible to fix temporarily.
Size matters – we lived in an apartment building with very small elevator, so it was out of question to get a stroller with large wheels. However, if size is not an obstacle for you, then definitely go for stroller with larger wheels.
Number of babies – you don't have to have twins but if you plan second baby soon like we did, the possibility to expand the stroller for two is must have. And plan carefully. The "buddy seat" is not as comfortable as it appears to be on official pictures.
These were the basic considerations that came to my mind before my son was born. Only after few weeks using the stroller I realized, what other helpful technical features it had.
Vertically adjustable handle - it was not only me doing sports with our son. My wife used it for in-line skating and she found this feature extremely helpful.
Bike-like brake - the disc brakes are now must have. They help, when you are running downhill, so you don't need to hold the stroller so heavily and they are useful during in-line skating.
Running stroller ready, what else may become handy?
Track your run - you probably want to track all the runs you're doing with your baby. I am using MapMyRun application, which allows me to select run type and features stroller or double-stroller routes. This application also allows to search for other users' recorded activities near your actual GPS location, which is helpful when you're abroad so you may find some inspiration. Unfortunately it won't let you to specifically search for this runs with stroller.
100+ things to pack for a run - you know the routine. Spare nappy, cleaning towels, creme, dummy, dummy cover and clip, changing pad, more nappies, more dummies and I named only few. Then tissues, some food and water. Isolating bag is good to have during winter time, as it prevents your food and water from freezing. Hand disinfection is always handy to bring with you as you don't want to touch your baby after a loo in nature. Safety first, so when you are crossing the street or sharing the track with bikes, you need to be visible from long distance by wearing and using the reflective strips. At the end you still have to think about where to put your home keys, cell phone, wallet with ID and million other things. Well, you probably should bring a long haul suitcase to make sure you have everything.
Did this post help you with choosing the right running stroller? In my next blog, I'll talk about different stroller running techniques and share instructional video.
So have you started already?
Back to article list